Electromagnetic Door Closers and Door Holders - The Ultimate Solution for Ease of Access and Equality Act (2010)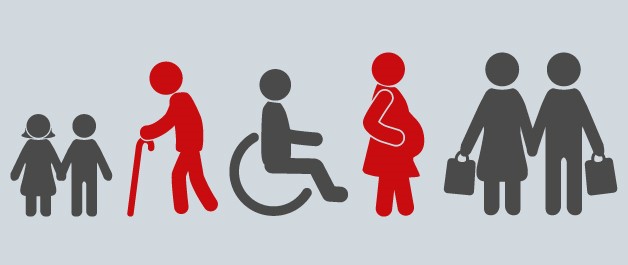 What is required for Fire Doors?
Ease of Access is a crucial regulatory requirement which should be considered in the design and specification of all Fire Door Closers but unfortunately is often overlooked in the market in an attempt to save costs.
Failure to comply with the Equality Act (2010) and Approved Document M (2011) can result in heavy fines or potentially criminal charges for any member of the installation process found to be specifying or installing door closers that do not meet these regulations - meaning that it is now more important than ever for any member of the design, architecture or installation team to ensure their Fire Door Closers adhere to these regulations.
We believe Ease of Access to be a necessity in Door Closer technology, not a luxury which should allow Specifiers to include reasonable access for all persons operating the door. It is our duty as ethical suppliers to supply Fire Door Closers that can be operated with ease by all - regardless of age, gender or disability.
What this means for Fire Door Closers is that in order to assist in the delivery of Ease of Access, they must meet the requirements detailed within Building Regulations: BS 8300:2009 and ADM in England and Wales, Section 3 in Scotland, and Part R in Northern Ireland which states that:
"…a door closer must produce an opening force of below 30N between 0º and 30º degrees and below 22.5N between 30º and 60º degrees…".
If this cannot be achieved with a Mechanical Door Closer, BS 8300 recommends the inclusion of an Electromagnetic Hold Open or Swing Free Device instead. These devices allow easy access for all by either removing all barriers to access (Hold Open Devices) or allow doors to be operated as if no door closer was fitted (Swing Free Devices).
How should Specifiers meet their obligations?
GAI Technical Briefing 15: Door Closing Devices & Access Requirements recommends:
Manufacturers of door closers provide third party performance test evidence demonstrating a closers capabilities of meeting the regulations - never solely rely on a claim of "DDA/EA Compliant".

Door closers that are supplied by a Specifier as meeting Ease of Access requirements should have supporting information on the closers performance and potential limitations.

Where clients/contractors are applying price pressure to avoid buying higher quality closers or electromagnetic solutions, suppliers should be aware of their responsibility to offer solutions that comply with legal regulations and not to put themselves at risk of fine or penalty by ignoring them.
How does Freeman and Pardoe help me to meet my legal obligations?
Arrow Fire Door Closers have proprietary and patented Ease of Opening technology and we provide independent test data demonstrating the opening forces prescribed by ADM and BS 8300.
However, whilst we recognise that whilst a door closer may be capable of meeting the opening force requirements of ADM in laboratory conditions, when it is subject to external factors such as hinges, seals, air pressure and variable fitting standards, opening forces may increase beyond the limits of compliance of BS 8300.
The problems for the Fire Door Specifier are particularly difficult at the design stage when not all circumstances are known but the narrower the door the more difficult it will be to open, and without full knowledge it is not advisable to guarantee that a Fire Door will meet the required opening forces.
Why Electromagnetic Door Closers Provide the Ultimate Solution
Consistent with the recommendations of BS 8300, we therefore always recommend the use of an Electromagnetic solution that is linked to the Fire Detection System to ensure all of your legal obligations are met. Arrow offers a comprehensive range of Electromagnetic products which, when installed correctly, will enable compliance with opening forces.